Lipedema is a loose connective tissue (fat) disease that occurs almost exclusively in women. Lipedema is often overlooked by medical professionals, but you have a voice and can ask for help1.
If you are experiencing any of the following characteristics ask your physician about lipedema:
Legs (sometimes arms) disproportionately larger than rest of the body
Symmetric fatty tissue that is resistant to diet or exercise
Leg pain, tenderness or easy bruising
There are proven steps you can take to successfully manage your symptoms and increase your quality of life2. One step is using a pneumatic compression device (PCD) that can reduce swelling caused by a buildup of fluid in the tissues.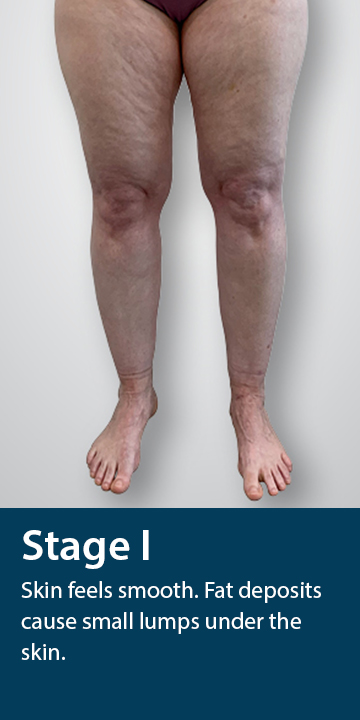 Managing Lipedema Symptoms
Clinical experts recommend a multi-pronged approach to managing the symptoms of lipedema, and one of the key components is improving the drainage of excess fluid.
To do this, certified therapists use a form of massage known as manual lymph drainage (MLD), as well as compression garments, which help improve drainage and reduce swelling. To gain similar benefits from the comfort of your home, there is pneumatic compression therapy like Flexitouch® Plus.3
The following table illustrates how the multi-pronged approach (Figure 1) can help reduce inflammation, manage pain, improve drainage and soften firm skin.
MULTI-PRONGED APPROACH TO CARING FOR LIPEDEMA
How Flexitouch® Plus Helps Lipedema Patients
Flexitouch Plus System
The Flexitouch Plus system provides people with lipedema a comfortable and convenient way to self-manage lipedema from home. The system:
Applies a gentle, wave-like massaging motion, which may be ideal for individuals with sensitive limbs
Directs fluid away from impaired areas to enable drainage
Provides symptom relief in approximately one hour
Clinically proven to reduce swelling and enhance quality of life 1,4,5
"That was a turning point for me. Having Flexitouch allowed me to do my own therapy, in my own home."
Brittney explains the process of working with her primary care physician to uncover the mystery of what was going on with her body to diagnose the proper course of action of manual lymphatic drainage and using a pneumatic compression device, called the Flexitouch Plus.
"*" indicates required fields
1. Buck DW, 2nd, Herbst KL. Lipedema: A Relatively Common Disease with Extremely Common Misconceptions. Plast Reconstr Surg Glob Open. 2016;4(9):e1043.
2. Lipedema Foundation. Treating Lipedema. https://www.lipedema.org/treatinglipedema. Accessed April 7, 2021.
3. Tactile data on file.
4. Adams KE, Rasmussen JC, Darne C, et al. Direct evidence of lymphatic function improvement after advanced pneumatic compression device treatment of lymphedema. Biomed Opt Express. 2010;1(1):114–125.
5. Blumberg SN, Berland T, Rockman C, et al. Pneumatic compression improves quality of life in patients with lower-extremity lymphedema. Ann Vasc Surg. 2016;30:40–4.